Make a difference: contribute to ANVUR accreditation
Published:
Monday, November 20, 2023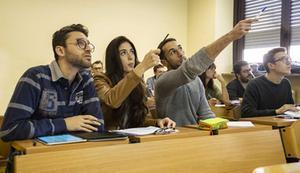 In the upcoming weeks, the Italian National Agency for the Evaluation of Universities and Research Institutes (ANVUR) will conduct a visit to the Medicine and Surgery Degree Course and the Department to which it belongs, as part of UniTo periodic accreditation.
What is it about?
ANVUR will check whether the Study Course meets a set of quality standards and that these standards are maintained over time, even after initial accreditation.
How can we contribute?
You can actively contribute by participating in the interviews that will take place during the week of the 11th of December, and will be carried out by an Evaluation Experts Panel (Commissione di esperti della valutazione = CEV). In these occasions, you will have the chance to share your academic experiences and involvement in decision-making and quality assurance processes, with their strengths and areas for improvement.
The point of view of the students of Medicine and Surgery will be deepened during the following moments, as set out in the ANVUR Guidelines for the Quality Assurance System in Medicine and Surgery Degree Courses:
for the Department of Clinical and Biological Sciences: meeting with a delegation of the students elected for the Department Council
for the Degree Course in Medicine and Surgery:

meetings with the Monitoring and Review Commission and with the Joint Teaching Commission, including student representatives
interviews with students in the lecture hall during one or more lessons identified by the CEV.
Have a look at the video.
Take part and give your contribution to make UniTo grow!
Related links: